Los Angeles Crimes Involving Moral Turpitude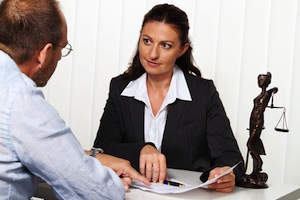 For many defendants who have been charged with felony or misdemeanor level offenses in Los Angeles, whether the offense is considered a crime involving moral turpitude ("CIMT") can be extremely important. These types of offenses can affect a person's immigration status and can potentially result in the person being deported or denied entry into the United States. In addition, these types of convictions can be used as impeachment evidence if the individual is ever called as a witness and can have an impact on a person's professional license.
Under certain circumstances, crimes of moral turpitude are considered deportable offenses for those who are not United States citizens. This means that being convicted of one of these offenses can lead to the defendant being removed from the country. In addition, most offenses that are considered crimes of moral turpitude are also considered inadmissible crimes. This means that non-citizens who are convicted would be prevented from re-entering the United States, becoming a citizen of the United States, applying for a green card or adjusting one's immigration status from "illegal" to "legal."
Crimes of moral turpitude are considered offenses involving dishonesty, fraud or certain type of behavior that can hurt others. What is considered a crime of moral turpitude is often governed by Federal law. Some of the more common crimes involving moral turpitude include theft offenses, domestic violence, drug sales, and various other crimes.
Not all crimes of moral turpitude will lead to a non-citizen being deported. A person will be rendered deportable if he or she is convicted of a crime of moral turpitude where the potential sentence is one year or longer and occurs within five years of the person being admitted into the United States. In addition, a person can be deported when he or she commits two or more crimes involving moral turpitude that did not arise from the same event.
A non-citizen can be deemed inadmissible to the United States if he or she is convicted or admits all of the elements of any crime involving moral turpitude. However, there is a "petty offense exception" which would apply where the conviction is only for one offense, the maximum potential sentence does not exceed one year and the defendant is sentenced to an actual jail term of six months or less. In these cases, a conviction for a crime of moral turpitude would not make the defendant inadmissible.
While people often focus on the immigration consequences that a conviction for a crime involving moral turpitude may carry, it is important to remember that these types of offense carry other consequences as well. A person who has a conviction for a crime of moral turpitude may have the conviction disclosed if he or she testifies as a witness. This is crucial for people who are accused of a crime in the future and would want to testify, as the prosecutor would be able to tell the jury about the defendant's prior conviction for a crime of dishonesty. In California, a witness can be impeached by any felony conviction on his or her record or by prior convictions involving moral turpitude or dishonesty.
In addition, certain professional licenses can be jeopardized as a result of a conviction for a crime of moral turpitude. For example, an attorney who is convicted of one of these offenses can risk a suspension or can even be disbarred.
If you have been charged with an offense and have questions about crimes involving moral turpitude, it is imperative that you meet with a Los Angeles Criminal Defense Attorney immediately. Los Angeles Criminal Defense Attorney Michael Kraut is a former Deputy District Attorney with over 14 years of prosecutorial experience who knows how to effectively represent his clients and help them avoid truly dire consequences.
For more information about Los Angeles crimes involving moral turpitude, and to schedule your free consultation, contact Los Angeles Criminal Defense Lawyer Michael Kraut at the Kraut Law Group located at 6255 Sunset Boulevard, Suite 1480, Los Angeles, CA 90028. Mr. Kraut can be reached 24/7 at 888-334-6344 or 323-464-6453.
Client Reviews
He gave me the peace of mind that my DUI case was going to be resolved. He fought for what it was needed and helped me by answering all my questions. Mike is not an average attorney. He's a very experienced, honest and straightforward person that is there for you!
I hired Attorney Mike Kraut and I'm am so happy and grateful that I did! I was arrested for a DUI because my BAC level was over the .08 limit. I ended up getting a wet and reckless instead of a DUI. I still have to do some classes and I'm on probation, but I do not have a DUI on my record. If you have a DUI hire Attorney Kraut, he definitely knows his stuff!
There aren't enough positive words to write about Mike, but let me be clear that this is the only lawyer worth hiring in Los Angeles. Mike is professional, caring, and an absolute champion at winning in court.
Mike Kraut is not a typical lawyer. He is a straightforward person with a true heart and a sympathetic ear. He is also smart and connected and he cares about the people who seek out his help. He got my son out of a jam. He did it quickly and painlessly. I recommend Mike Kraut to anyone that needs his services.
Thank you Mike for helping my son.
Michael Kraut is a rock star lawyer. I was really happy and satisfied with the results I received from Michael and his team. A few months back I was being accused of a serious felony. Mike gave me sound legal advice and worked diligently to clear my name. Mike was great at always keeping me updated and returning calls. Great, great lawyer I cant say enough about this man!
How can I express how relieved and pleased I am with Michael's professional abilities to have my Felony brought down to a misdameanor to a possible dismissal with deferment. With his care my life has been turned around and cannot say how helpful he's been not only in my case but life. He, himself has changed how I view criminal lawyers. Thank you so much Michael!