Glendale Hit And Run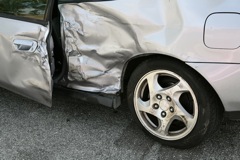 A hit and run offense in Glendale occurs when a driver is involved in a automobile collision and he or she does not stop to exchange information or wait for authorities as required but rather intentionally drives away. While hit and run accidents do not necessarily involve impaired drivers, this is an offense that is often associated with DUI offenses in Glendale and Glendale DUI with injury cases.
If the hit and run driver was involved in an accident involving damage to another person's car or other property, that driver is typically charged with a misdemeanor pursuant to California Vehicle Code Section 20002 VC. If the collision that prompted the hit and run causes another person to be injured or to die, then prosecutors can file felony charges pursuant to California Vehicle Code Section 20001 VC. The Glendale Branch of the Los Angeles County District Attorney's Office would handle the prosecution for both felony and misdemeanor hit and run offenses that occur in the Glendale region.
The fact that the hit and run driver was ultimately deemed to be not at fault in the accident or only caused minor damages would not preclude that person from being prosecuted and convicted of hit and run in Glendale. The act of leaving the scene of a collision is a criminal offense in and of itself.
For misdemeanor-level hit and run offenses, the property damaged in the collision is typically another driver's car, however it can include a range of items including houses, walls, fences and even animals. Under the law, a driver involved in a collision must stop and provide the other driver with contact information or leave that information in a place where it would be easily found (such as a windshield). Upon request, a driver is required to provide his or her driver's license, car registration, proof of insurance and the identity of the true owner of a vehicle if the driver did not own the car. If another person is hurt as a result of the accident, the driver is required to provide some degree of help. While a person is not required to provide CPR or other emergency care, they would be required to contact authorities at a minimum.
A conviction for misdemeanor hit and run in Glendale carries a sentence of up to six months in county jail, costly court fines and court-imposed restitution to compensate any victim losses. When the hit and run offense involves a living person, the offense is a "wobbler" that can be filed as either a felony or a misdemeanor. A felony hit and run conviction can send a defendant to prison for a maximum of four years. The defendant would also be ordered to pay victim restitution. A conviction for hit and run automatically assesses two DMV points on a driver's record.
Several defenses may be applicable to those charged with hit and run in Glendale. If no actual damage occurred as a result of the collision, or if the damage was entirely to the person accused of fleeing, then criminal hit and run charges would not apply. In addition, many people may drive away from automobile collisions because they did not even realize they hit something or someone. These people are not criminally liable for hit and run offenses because the crime of hit and run requires that the driver intentionally fled or attempted to drive away from the scene of a collision. There also are circumstances where a driver must drive away because they reasonably believe there is an immediate threat to their safety. In these instances, the driver may be able to successfully mount a duress defense.
If you or a loved one are facing Glendale hit and run charges, it is crucial that you speak with a top-notch Glendale criminal defense attorney right away. As a former Deputy District Attorney with over 14 years of prosecutorial experience, Glendale Criminal Defense Attorney Michael Kraut has handled cases of this nature from both sides of the aisle. As a result of his years of service as a prosecutor, Mr. Kraut has established important relationships in the Glendale court and law enforcement communities and is known for being a tough litigator who possesses a deep understanding of criminal law.
For more information about Glendale Hit and Run, and to schedule your free consultation, contact Glendale Criminal Defense Attorney Michael Kraut at the Kraut Law Group located at 121 W Lexington Dr, Glendale, CA 91203. Mr. Kraut can be reached 24/7 at 888-334-6344 or 818-507-9123.