California Penal Code Section 409 PC and 416 PC: Refusal To Disperse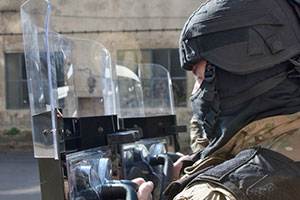 1. Definition and Elements of the Crime
Riots, unlawful assemblies and other situations where a large and unruly crowd has formed can pose a serious threat to life and property. In many cases, police and other emergency personnel may find themselves outnumbered and unable to adequately control this large and unruly group. In these situations, law enforcement may be required to order the crowd to disperse. Members of the group who fail to comply with this lawful order would be guilty of failure to disperse under California Penal Code Section 409 PC or California Penal Code Section 416 PC. Section 416 applies to those in a group who intend to commit an unlawful act, while Section 409 can apply to anyone in a group who fails to abide by an order to disperse.
In order to prove that a defendant refused to disperse under California Penal Code Section 409 PC, a prosecutor must establish the following elements:
The defendant was present at the location of a riot, rout or unlawful assembly.
A public officer lawfully ordered the defendant to disperse
The defendant willfully remained present at this location after the order to disperse
AND the defendant was not a public officer or a person assisting an officer in attempting to disperse the riot, rout or unlawful assembly.
To prove that a defendant refused to disperse under California Penal Code Section 416 PC, the following elements must be present:
The defendant assembled with one or more other people
The defendant intended to disturb the peace or commit a crime
A public officer had probable cause to believe that the purpose of the assembly was unlawful
The public officer lawfully warned the defendant to disperse
AND the defendant willfully remained at the location in spite of the order to disperse.
A public officer lawfully warns people to disperse when the officer directs them to immediately disperse. The officer is not required to use any particular words. However, the words used must be sufficient to inform a reasonable person that the officer is acting in an official capacity and ordering people to leave the area. The officer must also communicate the order in a reasonable way that ensures the order is actually heard.
2. Examples
During a political convention, various protest groups assemble in the streets outside of the convention hall to protest certain policies of the political party. The protest grows to be very large with thousands of people in attendance. Although, the protest remains peaceful, law enforcement officers become worried about the size of the crowd and order the group to disperse and go home. While many people leave, a small contingent stays behind in violation of this order. This smaller group would not be guilty of refusing to disperse because they were engaging in a lawful assembly. Refusal to disperse charges only applies to riots or unlawful assemblies.
During same protest, some members of the group begin to break windows and assault officers. Officers loudly announce an order to disperse. Again, a small group remains behind because they had no part in the criminal activity. This group could be prosecuted for failure to disperse even though they did not engage in the conduct that turned the protest into an unlawful assembly.
3. Related Offenses
Other similar or related offenses include:
Disturbing the Peace - California Penal Code Section 415 PC
4. Defenses to Refusal to Disperse
If the defendant did not actually hear the order to disperse, or if this order was not made in a manner in which a large group of people would be expected to hear it, the defendant would not be criminally liable for this offense. Failure to disperse requires a willful and intentional violation of a dispersal order. Additionally, the police must give people enough time to comply with an order to disperse once it is made.
5. Penalties
Refusal to disperse is a misdemeanor offense that is punishable by up to six months in jail, costly court fines and any other condition of probation a judge may impose. This may include required community service or community labor hours and restitution.
6. Criminal Defense for Refusal to Disperse Cases
Refusal to disperse is a criminal offense that can leave a permanent conviction on one's criminal record. As a result, it is important to speak with an experienced Los Angeles Criminal Defense Attorney immediately if you or someone you know have been charged with this offense. As a former Deputy District Attorney with over 14 years of prosecutorial experience, Los Angeles Criminal Defense Attorney Michael Kraut is highly respected throughout the court system as a passionate advocate for his clients.
For more information about refusal to disperse, and to schedule your free consultation, contact Los Angeles Criminal Defense Attorney Michael Kraut at the Kraut Law Group located at 6255 Sunset Boulevard, Suite 1520, Los Angeles, CA 90028. Mr. Kraut can be reached 24/7 at 888-334-6344 or 323-464-6453.