California Penal Code Section 408 PC: Unlawful Assembly
1. Definition and Elements of the Crime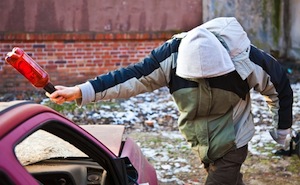 The California legislature recognizes the dangerous potential that large and unruly crowds can pose to public safety. Under California Penal Code Section 408 PC, it is a criminal offense to engage in an unlawful assembly.
To prove that a defendant engaged in an unlawful assembly, the prosecutor must be able to establish the following elements:
The defendant willfully participated in an unlawful assembly


AND the defendant knew that the assembly was unlawful when he or she participated in it.
An unlawful assembly occurs when two or more people assemble together to commit a crime or to commit a lawful act in a violent manner. When two or more people assemble to do a lawful act in a violent manner, the assembly is only unlawful if violence actually occurs or there is a clear and present danger that violence would occur right away.
2. Examples
At a peaceful political protest in a city's commercial district, tensions begin to mount as the crowd gets worked up. Some people in the crowd begin to arm themselves with weapons and start smashing windows and parked cars. Even though the assembly started out as peaceful and legal, it turned into an unlawful assembly when people started acting violently. The police could arrest the entire group, even those who were not committing crimes because remaining in a group that becomes unlawful is enough to violate the unlawful assembly statute.
In another example, a group of people meet at a park to throw a large rally for an unpopular political position. Many other park visitors are annoyed by the loud and raucous noise coming from the rally and the offensive chants. They call the police who respond to the park. As long as the group is acting in a lawful manner, the members of the group have not committed unlawful assembly and, in fact, are exercising their lawful right of free assembly that is guaranteed by the First Amendment to the U.S. Constitution.
3. Related Offenses
Other similar or related offenses include:
Participating in a Riot – California Penal Code Section 405 PC


Inciting a Riot - California Penal Code Section 404.6 PC


Failure to Disperse - California Penal Code Section 409 PC, California Penal Code Section 416 PC


Disturbing the Peace - California Penal Code Section 415 PC
4. Defenses to Unlawful Assembly
There are several defenses that may be applicable to charges of unlawful assembly under California Penal Code Section 408 PC. If the group was not committing violent acts or immediately threatening violence, there would be no unlawful assembly. For example, in order to protest restrictive gun laws, a gun rights group stages a protest where all members carry and brandish their firearms. As long as the people in the group have the proper permits to openly carry a firearm, they would not be committing the crime of unlawful assembly, because no one is acting violently nor is there a threat of imminent violence.
Additionally, even though it is illegal to be part of an unlawful assembly, there may be situations where members of a lawful assembly are not given sufficient time to leave the group once it becomes unlawful. These people would have a defense against any charges of unlawful assembly brought against them.
5. Penalties
Unlawful assembly is a misdemeanor that can result in six months in jail, court fines and fees, restitution awards for damage inflicted, required community service/labor hours and other conditions of probation for those convicted. In addition, the conviction would be listed on a person's criminal record and would show up on any criminal background check conducted by employers, landlords or others.
6. Criminal Defense for Unlawful Assembly Cases
If you or a loved one have been charged with unlawful assembly, it is critical that you meet with a Los Angeles Criminal Defense Attorney immediately. As a former Deputy District Attorney with over 14 years of prosecutorial experience, Los Angeles Criminal Defense Attorney Michael Kraut knows how to aggressively fight charges of this nature. Mr. Kraut has established key relationships among law enforcement and prosecutorial offices and can often work with these agencies pre-filing to avoid or limit criminal charges in cases like this. Mr. Kraut is highly regarded as a formidable advocate who possesses a deep understanding of criminal law.
For more information about unlawful assembly, and to schedule your free consultation, contact Los Angeles Criminal Defense Attorney Michael Kraut at the Kraut Criminal & DUI Lawyers located at 6255 Sunset Boulevard, Suite 1520, Los Angeles, CA 90028. Mr. Kraut can be reached 24/7 at 888-334-6344 or 323-464-6453.