California Vehicle Code Section 23582 VC: DUI Speed Enhancement
1. Definition and Elements of the Offense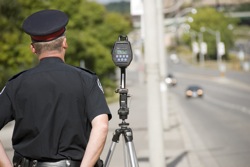 There are various factors that can increase the penalties on a DUI offense in Los Angeles if present. The legislature realizes that some DUI offenses are worse than others, and has allotted for penalty enhancements when certain conditions are met. One of these enhancements involves an additional penalty if the DUI defendant was excessively speeding. Under California Vehicle Code Section 23583 VC, excessively speeding during a DUI incident can result in jail sentences consecutive to any punishment received on the DUI offense.
In order for this enhancement to be imposed, the following elements must be present:
The defendant was convicted of driving under the influence of drugs or alcohol under California Vehicle Code Section 23152(a) VC, driving with a blood alcohol content of 0.08 or higher in violation of California Vehicle Code Section 23152(b) VC or DUI causing injury pursuant to California Vehicle Code Section 23153 VC.
The defendant drove either

30 mph or more over the speed limit on the freeway OR
20 mph or more over the speed limit on any other public road

AND the defendant drove recklessly
Someone drives in a reckless manner when he or she intentionally drives with wanton disregard for the safety of persons or property.
2. Related Offenses
Similar offenses include the following:
Driving with a Blood Alcohol Content of 0.08 Percent or Higher - California Vehicle Code Section 23152(b) VC
3. Examples
After having a few drinks at the bar, a man wants to try out his new sports car. While on the freeway which has a posted speed limit of 65 mph, he accelerates to 100 mph and drives in an aggressive and reckless manner. He cuts people off, weaves in and out of traffic and has several near misses with other vehicles on the road. The man is stopped by the police for speeding and is found to have a BAC above 0.08 percent. In addition to being charged with driving under the influence, the man may face the additional speed enhancement penalty that carries significant jail time.
In another example, the same man drives home on a deserted stretch of highway after drinking at the bar. He accelerates to over 100 mph but otherwise does not drive in a reckless manner. The man could certainly be prosecuted for DUI in this scenario, however the speed enhancement would not apply because there must be reckless driving in addition to speeding for the additional penalty to apply.
4. Defenses to the DUI Speed Enhancement
This DUI speed enhancement would only apply to a person who is convicted of a DUI or DUI causing injury offense. Thus, if the defendant's charges were reduced or if he was acquitted of the DUI charge, the speed penalty would be inapplicable.
In addition, speeding while under the influence does not automatically qualify as reckless driving under the speed enhancement statute, as there must be some type of reckless driving conduct in addition to the speeding. This is a high standard and a defendant may have a strong argument that while he or she may have been speeding, his or her driving conduct was not reckless.
5. Penalties
If imposed, the DUI speed enhancement adds an extra 60 days of jail consecutive to any sentence received on the Los Angeles DUI offense. In addition, the defendant would have to complete a drug and alcohol education and counseling program.
6. Criminal Defense for Los Angeles DUI
If you have been charged with a DUI offense in Los Angeles and there is a speed enhancement allegation, it is crucial that you speak with a Los Angeles DUI Attorney as soon as possible. Los Angeles DUI Attorney Michael Kraut is a former Deputy District Attorney with over 14 years of prosecutorial experience who is highly regarded throughout the court system as a skilled litigator who knows how to effectively fight and defend DUI cases. Mr. Kraut works hard to ensure his clients get the best outcome possible and avoid severe consequences that conviction may carry.
For more information about the DUI speed enhancement, and to schedule your free consultation, contact Los Angeles DUI Attorney Michael Kraut at the Kraut Criminal & DUI Lawyers located at 6255 Sunset Boulevard, Suite 1520, Los Angeles, CA 90028. Mr. Kraut can be reached 24/7 at 888-334-6344 or 323-464-6453.