California Penal Code Section 653(m) PC: Annoying Phone Calls
1. Definition and Elements of the Crime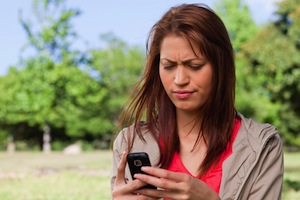 In the last decade, cell phones and other personal communication devices have become fixtures for a large majority of the population. However, this increased accessibility can make a person susceptible to abuse, and these devices may be used as a means to annoy, pester or harass others. As a result, it is against the law to make annoying phone calls under California Penal Code Section 653m PC. This statute applies to phone calls, text messages, and other methods of electronic communication.
To prove that a defendant is guilty of making annoying phone calls, a prosecutor must be able to establish the following elements:
The defendant made contact via telephone or electronic communication, which can include:

Text messages
Emails
Faxes
Instant Messages
Any other form of electronic communication

The calls or messages were obscene, threatening, or repeated
AND the defendant did this with the intent to annoy
2. Related Offenses
Other similar or related offenses include:
3. Examples
A man becomes upset after his girlfriend break ups with him. The woman has indicated that she does not want any additional contact, however the man continues to constantly send her text messages knowing that it bothers her. Often the text messages include nude photographs of himself and other material that could be considered obscene. This man could be charged with making annoying phone call pursuant to California Penal Code Section 653m PC despite the fact that he never actually placed a phone call, as text messages are covered by the statute.
In another example, a man starting a business wants to market his new venture in his neighborhood. He obtains several local phone numbers and makes daily telephone calls advertising his business to these numbers. Many of the people receiving calls have indicated that they do not want the man to call anymore, however he does not stop making the daily phone marketing calls. This man would not be criminally liable for making annoying phone calls, because his actions were not driven by an intent to harass or annoy, even though that was the ultimate effect of his persistent calls.
In a third example, a man is upset after being fired and gets extremely drunk at his local bar. After bar close he calls his boss at home, knowing that it would wake him up and would annoy him. When his boss picks up, the man calls him a jerk and then hangs up. This man could not be charged with making annoying phone calls, because even though he intended to annoy his boss, the single phone call was not threatening, obscene or repeated in violation of the statute.
4. Defenses to Making Annoying Phone Calls
As discussed above, because making annoying phone calls is a specific intent crime a person who lacks the intent to annoy or harass could not be prosecuted under this statute. This would apply to those promoting businesses, collecting on debts, or otherwise making calls or messages that may not necessarily be welcomed by the recipient but would still be permissible under California Penal Code Section 653m PC.
Additionally, if the calls were not objectively obscene or threatening, or were not repeated, there would be no criminal liability under the law.
5. Penalties
Making annoying phone calls is a misdemeanor level offense. Those convicted can be sentenced to up to six months in jail, a $1,000 court fine and any other conditions of probation that a judge may deem appropriate. A conviction for this offense would be recorded on person's criminal record and could be found by employers, landlords, or anyone else conducting a criminal background check.
6. Criminal Defense for Making Annoying Phone Call Cases
If you or someone you know have been accused of making annoying phone calls, it is very important that you speak with an experienced Los Angeles Criminal Defense Lawyer right away. Los Angeles Criminal Defense Attorney Michael Kraut is a former Deputy District Attorney with over 14 years of prosecutorial experience who knows how to effectively fight charges of this nature. In many cases if retained early enough, Mr. Kraut is able to intervene before charges are filed in order to prevent a criminal filing altogether. Mr. Kraut works hard to ensure that his clients receive the best representation possible.
For more information about making annoying phone calls, and to schedule your free consultation, contact Los Angeles Criminal Defense Lawyer Michael Kraut at the Kraut Law Group located at 6255 Sunset Boulevard, Suite 1520, Los Angeles, CA 90028. Mr. Kraut can be reached 24/7 at 888-334-6344 or 323-464-6453.