California Penal Code Section 653.22 PC: Loitering For Prostitution
1. Definition and Elements of the Crime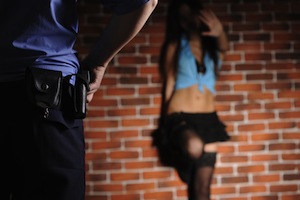 Prostitution is widely viewed as a crime that contributes to blight in the neighborhoods that it occurs. As a result it is not only a crime to engage in prostitution, it is also against the law to loiter in a public area with the intent to commit prostitution. This behavior is unlawful under California Penal Code Section 653.22 PC.
In order to prove a defendant loitered for prostitution, the following elements must be proven beyond a reasonable doubt:
The defendant delayed or lingered in a public place
When the defendant did so, he or she did not have a lawful purpose for being there
AND when the defendant did this, he or she intended to commit prostitution
The intent to commit prostitution can be shown by a person acting in a manner or under circumstances that openly demonstrate the intent to induce, entice or solicit prostitution. This may include the following conduct:
Repeatedly beckoning, stopping or engaging conversation with people passing by in order to solicit prostitution.
Repeatedly stopping or attempting to stop vehicles by gesturing to the drivers in a way that communicates a solicitation of prostitution.
OR circling an area while in a vehicle after being beckoned by those soliciting prostitution
Both prostitutes and those looking for prostitutes can be prosecuted for this offense. When this type of activity occurs in areas known to be associated with prostitution, it can be used as evidence that the defendant was loitering for prostitution.
2. Related Offenses
Other similar or related offenses include:
Supervising or Aiding Prostitution – California Penal Code Section 653.23 PC
3. Examples
A woman walks back and forth on a neighborhood block associated with prostitution during the middle of the night when all businesses are closed. The woman gestures to cars passing by and tries to make eye contact with the occupants. When a car stops, the woman approaches the driver's side window and speaks with the driver. A police officer who has been observing this woman approaches her and arrests her. This woman could be charged with loitering for prostitution despite the fact that she never actually engaged in or agreed to engage in an act of prostitution.
In another example, a man is observed by police driving slowly and circling the block of an area widely associated with prostitution. The man is seen slowing down and engaging several women in conversation. This man could also be prosecuted for loitering for prostitution as a result of his conduct.
4. Defenses to Loitering for Prostitution
Because this offense requires prosecutors to establish that a defendant had the specific intent to engage in prostitution while he or she was engaged in otherwise lawful behavior, there are many defenses that may be applicable.
There may be circumstances in which loitering for prostitution is committed accidentally. This may occur where the defendant is legitimately lost in an unfamiliar neighborhood or otherwise has a valid or innocent explanation for his or her conduct. In these situations, an accident defense may be applicable.
There also may be situations in which law enforcement agencies are running sting operations to catch prostitutes and johns. If the officers become overly aggressive in their attempts to induce people to engage in behavior they would not otherwise engage in, there may be a valid entrapment defense.
5. Penalties
Loitering for prostitution is a misdemeanor offense that is punishable by up to six months in jail and a $1,000 court fine. Other conditions of probation may apply that may be enforced by the sentencing judge. This type of conviction may carry significant collateral consequences and can prove toxic to future employers, landlords, or anyone else conducting a criminal background check.
6. Criminal Defense for Loitering for Prostitution Cases
If you have been charged with loitering for prostitution, it is very important that you speak with a knowledgeable Los Angeles Criminal Defense Lawyer right away. As a former Deputy District Attorney with over 14 years of prosecutorial experience, Los Angeles Criminal Defense Attorney Michael Kraut has both prosecuted and defended cases like this and knows how to present the best defense possible. Mr. Kraut understands the embarrassing nature of charges like this and is able to make all court appearances on his clients' behalf.
For more information about loitering for prostitution and to schedule your free consultation, contact Los Angeles Criminal Defense Lawyer Michael Kraut at the Kraut Law Group located at 6255 Sunset Boulevard, Suite 1520, Los Angeles, CA 90028. Mr. Kraut can be reached 24/7 at 888-334-6344 or 323-464-6453.