California Penal Code Section 26350 PC: Openly Carrying An Unloaded Handgun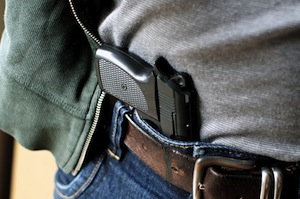 1. Definition and Elements of the Crime
Prior to 2012, a person who lawfully owned a handgun could openly carry it while the gun was unloaded. However, this changed with the enactment of California Penal Code Section 26350 PC, and now openly carrying a firearm is a criminal offense that can lead to jail sentences and other punishments.
In order to prove a defendant is guilty of this offense, the prosecutor must establish the following elements:
The defendant openly carried
An exposed or unloaded handgun
On his or her person or inside a vehicle
While in public
A handgun is a pistol, revolver or any other firearm capable of being concealed on someone's person. This would apply to any device designed to be used a weapon in which a projectile is expelled through a barrel via an explosion or other form of combustion and the barrel is less than 16 inches long.
2. Related Offenses
Other similar or related offenses include:
Carrying a Concealed Firearm - California Penal Code Section 25400 PC
Carrying a Loaded Firearm in Public - California Penal Code Section 25850 PC
3. Examples
A man goes to an indoor shooting range to try out a new pistol that he legally purchased. He keeps the pistol in a locked case and carries the case into the shooting range with him after parking on a public street. The man spends an hour at the range and when he is finished he returns to his car. However the man forgets to put the gun back in the case and simply carries it back to his car in his hand. The man could be charged with openly carrying an unloaded handgun in violation of California Penal Code Section 26350 PC. He was allowed to carry the handgun openly while at the shooting range, however when he returned to his car that was parked on a public street he was legally required to transport the handgun in a locked case.
In another example, a man goes to a sporting goods store and purchases a long rifle with a 26-inch barrel for an upcoming hunting trip. After purchasing the weapon the man brings the weapon to his car which is parked in the store's parking lot. He is so excited about his purchase that he takes the unloaded rifle out of its box to admire it in the parking lot. This man would not be criminally liable under California Penal Code Section 26350 PC because the rifle is not considered a "handgun" under the statute. However, depending on the way in which he "admires" his new rifle, the man may be arrested for brandishing a weapon or firearm in violation of California Penal Code Section 417 PC.
4. Defenses to Openly Carrying an Unloaded Firearm
There are certain circumstances in which a defendant would be allowed to openly carry an unloaded firearm. This exemption would apply to the following defendants:
People with a valid permit to carry a firearm
Peace officers
Military personnel
Firearm manufacturers and dealers with valid licenses
People using shooting ranges
Hunters
Common carrier employees
People at gun shows
Employees at gun repair shops and pawnshops
Actors/employees involved in a rehearsal or production of a play or movie
5. Penalties
Openly carrying an unloaded handgun is a misdemeanor offense that is punishable by up to a year in jail and any other conditions of probation that a judge may deem appropriate.
6. Criminal Defense for Openly Carrying an Unloaded Handgun Cases
If you have been charged with openly carrying an unloaded handgun, it is very important that you speak with a Los Angeles Criminal Defense Lawyer right away. Los Angeles Criminal Defense Attorney Michael Kraut is a former Deputy District Attorney with over 14 years of prosecutorial experience who knows how to aggressively defend the rights of gun owners. Mr. Kraut is highly respected throughout the court system for his knowledge of the law and skills in the courtroom. Mr. Kraut works hard to make sure his clients' legal rights are honored.
For more information about openly carrying an unloaded firearm, and to schedule your free consultation, contact Los Angeles Criminal Defense Attorney Michael Kraut at the Kraut Law Group located at 6255 Sunset Boulevard, Suite 1520, Los Angeles, CA 90028. Mr. Kraut can be reached 24/7 at 888-334-6344 or 323-464-6453.