California Penal Code Section 16590 PC: Manufacturing, Selling Or Possessing Dangerous Weapons
1. Definition and Elements of the Crime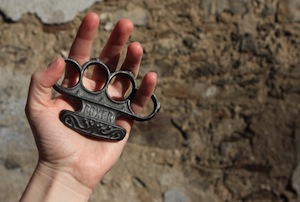 Although the Second Amendment to the United States Constitution guarantees a right to bear arms, there are limits and restrictions on what types of weapons one can own. Under California Penal Code Section 16590 PC, it is illegal to manufacture, sell or possess specific dangerous weapons, also referred to as "generally prohibited weapons."
In order to prove a defendant committed this offense, a prosecutor must be able to establish that the defendant knowingly:
Possessed
Manufactured
Caused to be manufactured
Imported into California
OR offered for sale
One of the following generally prohibited weapons:
Prohibited Firearms

Short-barreled shotgun
Short-barreled rifle
Undetectable firearm
Firearm that is not immediately recognizable as a firearm
Unconventional pistol
Cane gun, wallet gun or zip gun

Prohibited Firearm Equipment/Ammunition

Camouflaging firearm container
Ammunition that contains or consists of any flechette dart
Bullet containing an explosive agent
Multiburst trigger activator
Large-capacity magazine

Prohibited Knives/Swords

Ballistic Knife
Belt-buckle knife
Lipstick case knife
Cane sword
Shobi-zue
Air guage knife
Writing pen knife

Prohibited Martial Arts Weapons

Nunchaku
Shuriken

Other prohibited weapons

Brass knuckles/metal knuckles
Leaded cane
Metal military practice grenade/metal replica grenade
Blackjack/slungshot/billy/sandclub/sap/sandbag
There are many exceptions to who may be prosecuted for this offense, including martial arts academies, antique collectors or historians who have authorization, and people who use these items in certain film productions.
2. Related Offenses
Other similar or related offenses include:
Possession of a Switchblade – California Penal Code Section 21510 PC
Carrying a Concealed Dirk or Dagger – California Penal Code Section 21310 PC
3. Examples
A man goes on vacation to the Far East and brings back many souvenirs, including nunchakus (nunchucks) for his nephew who loves kung fu movies. The man is searched at LAX and the weapon is discovered. The man could be charged with possessing a dangerous weapon even though he did know he was not allowed to possess nunchucks in California. Ignorance of the law is not a legal excuse to a crime.
In another example, an actor on location shooting an action movie wears a pair of brass knuckles that is required for his role. A passing police officer notices the man wearing the weapon and cites him for possession of a dangerous weapon. The actor would not be criminally liable for this offense because his possession of the brass knuckles falls within one of the exceptions to California Penal Code Section 16590 PC.
4. Defenses to Manufacturing, Selling or Possessing Dangerous Weapons
As mentioned above, if the defendant falls within one of the exemptions to the statute, or if the defendant had a permit or authorization to possess the dangerous weapon, he or she would not be guilty of this offense.
In addition, if the dangerous weapon was discovered during a search and seizure conducted by law enforcement without probable cause, the defendant can challenge the admissibility of the evidence (i.e. the weapon) and potentially have it suppressed by a judge.
5. Penalties
Manufacturing, selling and/or possessing dangerous weapons is a "wobbler" offense that can be charged as either a misdemeanor of a felony. When making a filing decision, prosecutors will consider factors such as the circumstances of the offense and the criminal history of the defendant. If convicted as a misdemeanor, the maximum sentence is a year in jail. If the defendant is convicted of a felony, he or she can be sentenced to prison for a period of up to three years.
6. Criminal Defense for Dangerous Weapons Cases
If you have been charged with manufacturing, selling or possessing dangerous weapons, it is critical that you speak with a knowledgeable Los Angeles Criminal Defense Lawyer right away. As a former Deputy District Attorney with over 14 years of prosecutorial experience, Los Angeles Criminal Defense Attorney Michael Kraut knows how to best fight these types of charges. Mr. Kraut understands that the offense may have been committed unintentionally or without knowledge of the numerous restrictions under the law and fights hard to ensure his clients receive the best outcome possible.
For more information about manufacturing, selling or possessing dangerous weapons and to schedule your free consultation, contact Los Angeles Criminal Defense Lawyer Michael Kraut at the Kraut Law Group located at 6255 Sunset Boulevard, Suite 1520, Los Angeles, CA 90028. Mr. Kraut can be reached 24/7 at 888-334-6344 or 323-464-6453.