California Penal Code Section 487(d)(1) PC: Grand Theft Auto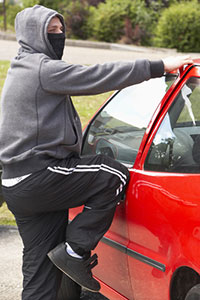 1. Definition and Elements of the Crime
When the property stolen in a theft crime is an automobile, the offense is automatically considered grand theft and charges of Grand Theft Auto under California Penal Code Section 487(d)(1) would apply.
To prove a defendant committed grand theft auto, a prosecutor must be able to establish the following elements:
The defendant took a car owned by someone else
The defendant took the car without the vehicle owner's consent
When the defendant took the car, he or she intended to keep it permanently or keep it for such a period of time that the owner would be deprived of its value or use
AND the defendant move the car, even a short distance, and kept it for a period of time, however brief
While the most common way to commit grand theft auto is theft by larceny as detailed above, someone can also unlawfully steal a car by false pretense (buying a car but failing to actually make a payment), by trick (unlawfully keeping a rental or loaned car) or by embezzlement (taking advantage of a position of trust to unlawfully obtain an automobile).
2. Related Offenses
Other similar or related offenses include:
Joyriding – California Vehicle Code Section 10851 VC
3. Examples
A man rents a car for a week while he is on vacation. At the end of the rental period, the man decides he like the car so much that he wants to keep it. This man could be prosecuted for grand theft auto under California Penal Code Section 487(d)(1) PC as he unlawfully transferred ownership of a vehicle to himself without the true owner's permission.
In another example, a man whose wife is pregnant is caught by surprise when she goes into labor earlier than expected. The man's car does not start and he is in a rush to get to the hospital, so he takes his neighbor's car which is in the adjacent driveway with keys in the ignition. The man fully intends to return the car when he gets back from the hospital. This man would not be criminally liable for grand theft auto because he did not intend to permanently take the car or even take it for such an extensive amount of time that the value or the owner's ability to use the car would be diminished in a meaningful way.
4. Defenses to Grand Theft Auto
If the person taking the car did not intend to permanently take it from its true owner (or take the car for so long that the owner suffers a loss) then he or she would not be criminally liable under the grand theft auto statute. However, they still may be guilty of joyriding under California Vehicle Code 10851 VC. In addition, if the defendant had permission or consent to take the vehicle, he or she would not be guilty of grand theft auto.
5. Penalties
Grand theft auto is considered a "wobbler" offense that can be filed by prosecutors as either a felony or a misdemeanor. If filed as a felony, the maximum penalty one could receive is three years in prison. If charged as a misdemeanor, the maximum penalty is a year in jail. If the value of the vehicle stolen is above $65,000, an additional year in prison can be added to any sentence. If the value of the vehicle exceeds $200,000, the defendant may face an additional two years in prison.
6. Criminal Defense for Grand Theft Auto Cases
Grand theft auto is a serious criminal offense that could result in a felony conviction on your record and a lengthy jail or prison sentence. If you or someone you know are facing charges for this offense, it is very important that you meet with a Los Angeles Criminal Defense Attorney to discuss your case. Los Angeles Criminal Defense Attorney Michael Kraut is a former Deputy District Attorney with over 14 years of prosecutorial experience who has both prosecuted and defended people charged with grand theft auto. Mr. Kraut is a true professional who is highly regarded in the court system for his legal abilities and knowledge.
For more information about grand theft auto, and to schedule your free consultation, contact Los Angeles Criminal Defense Attorney Michael Kraut at the Kraut Law Group located at 6255 Sunset Boulevard, Suite 1520, Los Angeles, CA 90028. Mr. Kraut can be reached 24/7 at 888-334-6344 or 323-464-6453.