California Penal Code Section 403 PC: Disturbing A Public Meeting
1. Definition and Elements of the Crime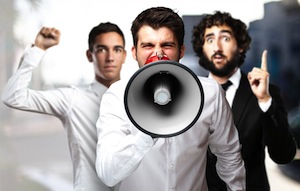 While the First Amendment guarantees a person his or her freedom of speech, there are circumstances where the exercise of free speech interferes with other people's lawful right of assembly. As a result, it is illegal to disturb a public meeting under California Penal Code Section 403 PC.
A prosecutor must prove the following elements to convict a defendant of disturbing a public meeting:
The defendant intentionally committed acts that violated implicit customs or explicit rules for governing a public meeting


The defendant knew or reasonably should have known that his or her acts violated those customs or rules


AND the defendant's acts substantially and unlawfully interfered with the conduct of the meeting
A person is not guilty of the crime unless the defendant's acts themselves, and not the message or expressive content of the acts, substantially interfered with the conduct of the meeting.
2. Examples
An annual meeting of university regents is taking place at a university campus. A student protest group assembles to protest what they feel are discriminatory admission policies of the university. The group enters the meeting and chants over loudspeakers and megaphones. The students could be charged with disturbing a public meeting because their protest interfered with the regent's ability to conduct a hearing.
In another example, a corporation schedules its annual shareholder's meeting at a hotel conference room. Next to the conference room, a large wedding party has booked the ballroom. The raucous noise and music from the wedding makes it impossible for the shareholders to conduct their meeting. The wedding party could not be charged criminally with disturbing the meeting, because they did not intentionally act to disturb the meeting and they may not have even been aware that a meeting was taking place. Even if they were told to quiet down, they could still not be charged criminally under California Penal Code Section 403 PC.
The crime of disturbing a public meeting received recent public attention when the "Irvine 11," a student protest group who disrupted a presentation by the Israeli Ambassador at the University of California, Irvine, were charged and convicted of this offense.
3. Related Offenses
Other similar or related offenses include:


Disturbing the Peace - California Penal Code Section 415 PC
4. Defenses to Disturbing a Meeting
A person can only be convicted of disturbing a meeting if his or her acts themselves, and not the message or expressive content of the act, substantially interfered with the meeting's conduct. For example, at a public meeting regarding military funding, an anti-war group assembles with signs showing gory photographs depicting the effects of war. As long as the group does not act to interfere with the meeting, their message would be protected as free speech under the First Amendment. It is the manner of speech, and not the speech itself, that may be punished criminally.
In addition, this offense requires that the defendant intentionally disturb the meeting or interfere with other group's abilities to hold a meeting. If the disturbance was merely accidental, there would be no criminal liability under the statute.
5. Penalties
Disturbing a public meeting is a misdemeanor offense that may be punishable by up to six months in county jail, substantial court fines, fees and assessments, community service and/or labor requirements and any other conditions of probation that a sentencing judge may enforce. The conviction will remain on a person's criminal record and would be visible to future employers, landlords, or anyone else conducting a criminal background check.
6. Criminal Defense for Disturbing a Meeting
If you or someone you know have been charged with or accused of disturbing a public meeting, it is very important that you consult with an effective Los Angeles Criminal Defense Attorney right away. As a former Deputy District Attorney with over 14 years of prosecutorial experience, Los Angeles Criminal Defense Attorney Michael Kraut knows how best to defend clients charged with offenses of this nature. It is often the case that these prosecutions may be politically motivated and Mr. Kraut can make sure his client's Constitutional rights are respected and protected.
For more information about disturbing a meeting, and to schedule your free consultation, contact Los Angeles Criminal Defense Attorney Michael Kraut at the Kraut Law Group located at 6255 Sunset Boulevard, Suite 1520, Los Angeles, CA 90028. Mr. Kraut can be reached 24/7 at 888-334-6344 or 323-464-6453.