California Penal Code Section 246.3 PC: Shooting In A Grossly Negligent Manner
1. Definition and Elements of the Crime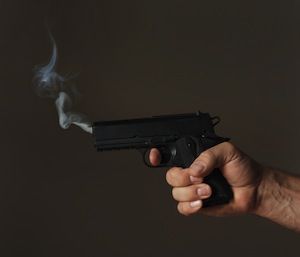 California Penal Code Section 246.3 PC makes it illegal to shoot off firearms or BB guns in a grossly negligent fashion. This law was enacted to address incidents of people shooting guns into the air in acts of celebration. Unfortunately, many of these shooters fail to realize that what goes up, must come down, and bullets fired into the air can cause significant damage and injury miles away when that bullet returns to earth.
To prove that a defendant negligently discharged a firearm or BB gun a prosecutor must be able to establish the following elements:
The defendant intentionally shot a firearm or BB gun.
The defendant did the shooting with gross negligence.
The shooting could have resulted in the injury or death of a person.
And the defendant did not act in self-defense.
Gross negligence involves more than ordinary carelessness, inattention or lapses in judgment. Someone acts with gross negligence when:
He or she acts in a reckless way that creates a high risk of death or great bodily injury
A reasonable person would have known that acting in that way would create such a risk.
The shooting could have resulted in the injury or death of a person.
And the defendant did not act in self-defense.
A person who believed that the firearm he or she discharged was not loaded would not be guilty of this crime.
2. Examples
A man is at an outdoor party celebrating the New Year. As midnight strikes, he fires a pistol into the air in celebration. No one is hurt. This man could be prosecuted for shooting in a negligent fashion nonetheless.
In another example, a man fires what he thinks is an unloaded starter pistol during a track meet. It turns out that the "starter pistol" is an actual working firearm. This man could not be prosecuted as he had a reasonable belief that the gun in question was not loaded.
3. Related Offenses
Other similar or related offenses include:
Carrying a Loaded Firearm in a Public Place or in a Vehicle – California Penal Code Section 25850 PC
4. Defenses to Shooting in a Grossly Negligent Manner
If the shot was fired in self defense, a defendant would have a valid defense against charges of negligent discharge of a firearm. Thus, if a person reasonably believes they are about to be attacked or killed, he or she can legally fire a "warning shot."
An element of the crime requires that the shooting could have been deadly or dangerous. If the shot occurs in a completely isolated area, the defendant would have a good argument that criminal charges should not apply as no one was put at risk.
As mentioned above, if there is a reasonable belief that that gun in question was not loaded, that person could not be prosecuted for negligently discharging a firearm.
5. Penalties
Shooting in a grossly negligent manner is a "wobbler," which means that it can be charged as either a felony or a misdemeanor depending on the factual circumstances of the case and the criminal record, if any, of the defendant. If convicted as a misdemeanor, a defendant can be sentenced to up to a year in jail. If convicted of a felony, the defendant may face up to three years in prison.
A person convicted of this offense would lose their ability to own and purchase firearms for 10 years on a misdemeanor and life on a felony. In addition, a felony conviction would count as a strike under California's Three Strikes Law.
6. Criminal Defense for Shooting in a Grossly Negligent Manner Cases
Grossly negligent shooting can result in serious penalties for what may seem to be a harmless act. If you or someone you know are under investigation for this offense, it is very important that you speak with a Los Angeles Criminal Defense Attorney as soon as possible. Los Angeles Criminal Defense Attorney Michael Kraut is a former Deputy District Attorney with over 14 years of prosecutorial experience who has critical experience in handling charges of this nature from both the prosecutorial and defense perspective. Mr. Kraut is highly respected by judges, prosecutors and law enforcement as a fierce defender of his clients' rights.
For more information about shooting in a grossly negligent manner charges, and to schedule your free consultation, contact Los Angeles Criminal Defense Attorney Michael Kraut at the Kraut Law Group located at 6255 Sunset Boulevard, Suite 1520, Los Angeles, CA 90028. Mr. Kraut can be reached 24/7 at 888-334-6344 or 323-464-6453.