California Penal Code Section 203 PC And California Penal Code Section 205 PC: Mayhem And Aggravated Mayhem
1. Definition and Elements of the Crimes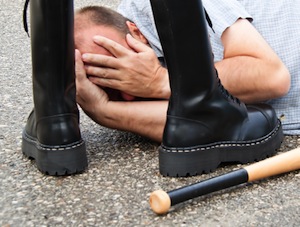 The California legislature has recognized that attacks causing permanent disfigurement and disability should be punished more severely. As a result, someone who causes these types of injuries may be charged with mayhem pursuant to California Penal Code Section 203 PC or aggravated mayhem under California Penal Code Section 205 PC. Unlike many assault and battery offenses, the mayhem statutes are more concerned with the degree of injury rather than the amount of force used.
To prove that a defendant is guilty of mayhem, the prosecutor must prove that the defendant caused serious bodily injury when he or she unlawfully or maliciously:
Removed another's body part.
Disabled a part of someone's body and the disability was more than slight or temporary
Permanently disfigured someone
Cut or disabled someone's tongue
Slit someone's nose, ear or lip OR
Permanent damaged someone's eye
Someone acts maliciously when he or she intentionally does something wrong or when he or she acts intentionally to annoy or injure someone else. A disfiguring injury may be permanent even it can be repaired by medical procedures.
To be convicted of aggravated mayhem, the following elements must be present:
The defendant unlawfully and maliciously disabled or permanently disfigured another person
The defendant acted with the intent to disable or permanently disfigure AND
Under the circumstances, the defendant's act showed extreme indifference to the physical or psychological well-being of the other person.
2. Examples
A man is part of a group that beats up a rival fan at a sporting event. The victim is beaten so brutally that he suffers permanent loss of vision in one of his eyes. The man could be prosecuted for mayhem due to the permanent and disabling injuries suffered by the victim.
If instead of permanent eye damage, the victim suffered cuts and bruises, the man would not be criminally liable for mayhem or aggravated mayhem. He would most likely be prosecuted for battery, aggravated battery or a similar violent crimes charge because the injuries were not permanent.
3. Related Offenses
Other similar or related offenses include:
4. Defenses to Mayhem
The crime of mayhem requires malicious and intentional conduct. There may be situations where a person seriously maims another during an argument but the conduct was unintentional. In these circumstances occur, an accident defense may apply.
Additionally, people are permitted to use force to protect themselves or others from a reasonable threat to their lives. It is possible that someone could seriously maim their attacker in the course of defending themselves. In these cases, there would be a valid self-defense argument.
5. Penalties
Mayhem under California Penal Code Section 203 PC is a felony-level offense. If convicted, a person can face up to eight years in prison or formal probation, hefty court fines and restitution to the victim.
If the victim was younger than 14, older than 65, blind, deaf or disabled or a paraplegic or quadriplegic, the defendant can be sentenced to an additional two years in prison consecutive to any sentence.
If someone is convicted of aggravated mayhem under California Penal Code Section 205 PC, he or she can be sentenced to life in prison with the possibility of parole.
6. Criminal Defense for Mayhem Cases
Mayhem and aggravated mayhem are very serious criminal offenses that carry substantial prison sentences. If you or a loved one have been charged with either of these offenses, it is imperative that you speak with a Los Angeles Criminal Defense Attorney who is experienced at handling major cases of this nature. Los Angeles Criminal Defense Attorney Michael Kraut is a former Deputy District Attorney with over 14 years of prosecutorial experience who has handled felonies of this nature. Mr. Kraut understands the serious consequences that conviction can cause and fights hard to defend his clients charged with such offenses. Mr. Kraut is highly regarded throughout the court system as a tough litigator who possesses a deep knowledge of the criminal law.
For more information about mayhem charges, and to schedule your free consultation, contact Los Angeles Criminal Defense Attorney Michael Kraut at the Kraut Law Group located at 6255 Sunset Boulevard, Suite 1520, Los Angeles, CA 90028. Mr. Kraut can be reached 24/7 at 888-334-6344 or 323-464-6453.