California Penal Code Section 115 PC: Filing A False Document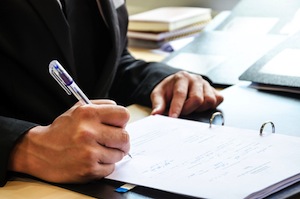 1. Definition and Elements of the Crime
Filing a False Document under California Penal Code Section 115 PC makes it a felony to file any forged or false document with a public office.
The statute requires a prosecutor to prove the following elements:
A defendant provided a document for filing, recording or registration with any public office in California
The defendant knew that the document was false or a forgery when he or she filed it AND
The document was one that, if genuine, could be legally filed.
The term "document" has been interpreted broadly by courts and prosecutors. The statute is most frequently used to prosecute the filing of false property deeds in connection with real estate fraud schemes. However, Filing a False Document charges can involve almost any document that can be legally filed in a public office, including bail bonds, probation work referrals, and even fishing records.
2. Examples
Looking to make some quick money, a man forges a copy of a property transfer deed indicating that he purchased a home from his mother and he is now the lawful owner. The man files this forged property deed with the county recorder's office and then takes out substantial loans against the property. Not only is the man guilty of mortgage fraud, he would also be criminally liable for Filing a False or Forged Document and could be prosecuted for both offenses.
3. Related Offenses
Filing a False Document under Penal Code Section 115 PC is usually associated with other Theft Crimes and White Collar Crimes such as Real Estate Fraud and Mortgage Fraud. In fact, prosecutors may prefer to file charges under Penal Code 115 PC because it is a felony level offense that is easier to prove than some of the more complex fraud charges.
Related charges also include:
Forgery - California Penal Code Section 470 PC
Perjury - California Penal Code Section 118 PC
Grand Theft - California Penal Code Section 487 PC
4. Defenses to Filing False Document Charges
There may be a situation in which several drafts of a document are prepared prior to an official filing with a public office. If the defendant accidentally picks up a "false" draft copy and files this copy instead of the correct document, he would have a valid Accident Defense if charged under Penal Code Section 115 PC because he did not intentionally file a "false" document.
Additionally, there would be a valid Mistake of Fact defense for someone who inadvertently filed what they thought was a valid document but was actually a forgery. Without intent to deceive, there would be no criminal offense.
5. Penalties
Filing a False or Forged Document is a felony that is punishable by up to three years in prison and substantial court fines. For defendants accused of filing multiple forged documents, each document filed may be punished separately. This means that a defendant can face an additional three years in prison for each false document filed. There may restitution ordered to compensate the victim of loss resulting from the false filing.
An additional 1-4 years can be imposed if the false filing leads to losses to a property holder of more than $65,000. An additional 1-5 years can be added to any sentence if the defendant deprived a property holder of more than $100,000 and the defendant was convicted of two or more felony-level fraud offenses in the same criminal proceeding.
6. Criminal Defense for Filing a False Document Cases
Filing a False Document is serious offense that requires the skills and expertise of a Los Angeles Criminal Defense Attorney who has extensive experience in defending complex White Collar cases. Los Angeles Criminal Defense Attorney Michael Kraut is a former Deputy District Attorney with over 14 years of prosecutorial experience who has handled complicated White Collar matters as both a prosecutor and a defense attorney. Mr. Kraut is highly respected throughout the court system for his knowledge of the law and abilities as a litigator. If you or a loved one is under investigation or has been charged with Filing a False or Forged Document, contact Mr. Kraut immediately.
For more information about Filing a False Document, and to schedule your free consultation, contact Los Angeles Criminal Defense Attorney Michael Kraut at the Kraut Law Group located at 6255 Sunset Boulevard, Suite 1520, Los Angeles, CA 90028. Mr. Kraut can be reached 24/7 at 888-334-6344 or 323-464-6453.