Burbank Hit And Run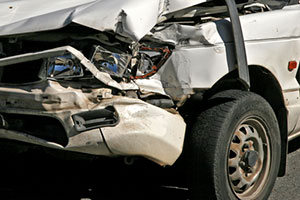 Automobile accidents are a daily occurrence in the Burbank area, and while they may result in costly civil damages, they usually do not involve criminal penalties. However, if a person drives away or flees an accident instead of staying to exchange information, the act of fleeing is a crime in Burbank under California's hit and run laws. Although allegations of drunk or impaired driving are not necessarily involved in a hit and run case, hit and run offenses are frequently connected to Burbank DUI offenses and DUI with injury cases occurring in Burbank.
A hit and run offense can be either a misdemeanor under California Vehicle Code Section 20002 VC if the collision involved property or a "felony" under California Vehicle Code Section 20001 VC if the underlying collision resulted in injury or death to someone else. While commonly referred to as "felony hit and run," California Vehicle Code Section 20001 VC is actually a "wobbler" offense which can be charged as either a felony or a misdemeanor, depending on the extent of damage, the criminal history of the defendant and other relevant circumstances. The Burbank City Attorney would handle the prosecution of misdemeanor offenses while the Burbank Branch of the Los Angeles County District Attorney's Office would prosecute felonies in the area.
Hit and run charges in Burbank can be filed in any situation where a driver leaves the scene of a collision. This includes accidents in which the driver is not at fault or accidents where the damages are minimal.
When dealing with hit and run offenses involving damaged property, the property in question can be a number of different items, including cars, buildings, houses, fences, bicycles and even pets. A driver involved in any collision is legally required to stop and exchange contact information with the other driver involved or the owner of the property damaged. If the owner is not there, a driver is expected to leave a note for the driver in a place that is easy to locate. If requested to, a driver must show a driver's license, registration information for the vehicle, insurance information and the driver must divulge the name of the vehicle's owner if it belongs to someone else. If the collision results in injury, the other driver is legally required to render assistance, even if that assistance is limited to contacting 911.
Someone convicted of a hit and run misdemeanor in Burbank can be sentenced to up to six months in jail, expensive court fines as well as restitution to cover any damages. For hit and run offenses that result in injury or death, the defendant can be sent to prison for up to four years. The DMV will assess two points to a driver's license upon any hit and run conviction.
For those charged with hit and run in the Burbank area, there may be a number of legal defenses that they can rely on. If the underlying accident that prompted the hit and run involved no damages at all or damages solely to the defendant, then the defendant would not be criminally liable under the hit and run statutes. Additionally, the crime of hit and run requires that a driver intentionally flees the scene of an accident. There are often circumstances where a person hits something (or even someone) without being aware of the collision. If the hit and run was completely unintentional, that driver would not be guilty of a criminal offense. Finally, there can be situations where a driver must quickly leave the scene of an accident because there exists a legitimate threat to his or her own safety. This may be the case where a driver is involved in an accident in an unfamiliar neighborhood and the other driver becomes violent or a crowd of angry neighbors begin to threaten the driver. Under these circumstances, there may be a valid duress defense if the driver is charged with criminal hit and run.
If you or someone you know have been charged with hit and run in Burbank, it is critical that you speak with an effective Burbank criminal defense attorney as soon as possible. Burbank Criminal Defense Attorney Michael Kraut is a former Deputy District Attorney with over 14 years of prosecutorial experience, including a rotation prosecuting felonies at the Burbank Courthouse. As a result, Mr. Kraut has gained a reputation in Burbank for being a skilled litigator who possesses a deep knowledge and understanding of criminal law and procedure.
For more information about Burbank Hit and Run, and to schedule your free consultation, contact Burbank Criminal Defense Attorney Michael Kraut at the Kraut Law Group located at 2600 West Olive Avenue, 5th Floor, Burbank, CA 91505. Mr. Kraut can be reached 24/7 at 888-334-6344 or 818-563-9810.