California Penal Code Section 209.5 PC: Kidnapping During Carjacking
1. Definition and Elements of the Crime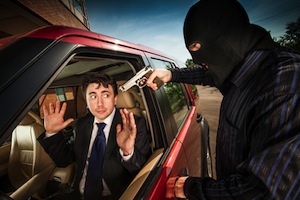 Kidnapping During A Carjacking under California Penal Code Section 209.5 PC is a form of aggravated kidnapping that could potentially send a person to prison for life upon conviction. The California legislature has recognized the gravity of this offense and has responded by authorizing harsh penalties for those convicted.
To be convicted of this offense, a prosecutor must be able to establish the following elements beyond a reasonable doubt:
The defendant committed a carjacking.
During the carjacking, the defendant took, held, or detained another person by using force or by instilling reasonable fear.
The defendant moved the other person a substantial distance from the vicinity of the carjacking.
The defendant moved the other person with the intent to facilitate the carjacking or to help the defendant escape.
The person moved was not one of the carjackers
AND the person moved did not consent to the movement.
Carjacking can occur when a defendant forcibly takes a victim's car keys, not just when a defendant takes a car from the victim's presence.
2. Examples
A man is caught in the act of committing a burglary offense pursuant to California Penal Code Section 459 PC and needs to make a quick getaway. He runs into the street and sees a woman in an idling car. The man points a gun at the woman and orders her to move over to the passenger seat. The man gets in the driver's seat and drives away from the scene, with the woman still in the car. This man could be charged with kidnapping in connection with a carjacking in violation of California Penal Code Section 209.5 PC, in addition to whatever charges he may face for the burglary offense.
3. Related Offenses
Other similar or related offenses include:
4. Defenses to Kidnapping During a Carjacking
If the "victim" allowed the defendant to drive his or her car or otherwise consented to being moved, then there would be no crime, as both elements are required for a person to be convicted of this offense.
5. Penalties
Kidnapping in the commission of a carjacking is a violent felony offense. Those convicted of this offense may be sentenced to life in prison with the possibility of parole. This is a "strike" offense under California's Three Strikes Law and any conviction for this crime can be used to enhance the penalties on future convictions.
A conviction for attempting to commit this offense could result in a prison sentence of up to nine years.
6. Criminal Defense for Kidnapping During Carjacking Cases
Kidnapping during the commission of a carjacking is an aggravated kidnapping offense and a violent felony that carries very serious penalties. This type of case requires the assistance of an experienced and knowledgeable Los Angeles Criminal Defense Attorney. If you or a loved one have been arrested for this offense, it is very important that you speak with an attorney who is experienced in defending major cases. As a former Deputy District Attorney with over 14 years of prosecutorial experience, Los Angeles Criminal Defense Attorney Michael Kraut is highly adept at handling cases of this nature. Mr. Kraut was previously assigned to prosecute major felonies and has handled cases like this from both the prosecutorial and defense perspective. Mr. Kraut has established key relationships throughout the court system and is highly regarded as dedicated litigator who possesses a deep knowledge and understanding of the criminal law.
For more information about kidnapping during carjacking charges, and to schedule your free consultation, contact Los Angeles Criminal Defense Attorney Michael Kraut at the Kraut Law Group located at 6255 Sunset Boulevard, Suite 1520, Los Angeles, CA 90028. Mr. Kraut can be reached 24/7 at 888-334-6344 or 323-464-6453.