California Health and Safety Code Section 11173: Doctor Shopping / Prescription Fraud
1. Definition and Elements of the Crime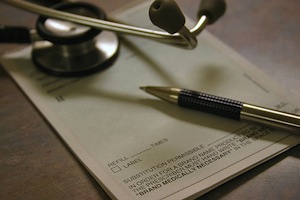 Doctor shopping is a prevalent phenomenon as prescription drug addiction has grown to be widespread. Doctor shopping involves visiting multiple medical health professionals or pharmacies in order to obtain multiple prescriptions for controlled substances. Doctor shopping is a form of prescription fraud that is against the law under California Health & Safety Code Section 11173 HSC.
A person can be convicted under California Health & Safety Code Section 11173 HSC if he or she commits any of the following acts:
Obtains or attempts to obtain controlled substances by fraud, deceit, misrepresentation, subterfuge or by concealment of a material fact.
Makes a false statement in any prescription, order, report or record
Falsely assumes a title or represents himself to be a manufacturer, wholesaler, pharmacist, physician, dentist, veterinarian, registered nurse, physician's assistant or other authorized person
Affixes any false or forged label to a package or receptacle containing controlled substances
Controlled substances include the drugs that have been added to state and federal drug classification schedules, and include opiates such as oxycodone, hydrocodone and morphine, depressants such as xanax and valium and stimulants like adderall and ritalin.
2. Related Offenses
Other similar or related offenses include:
Prescribing a Controlled Substance without a Legitimate Purpose - California Health & Safety Code Section 11153 HSC
Forged Prescription for Narcotic – California Health & Safety Code 11368 HSC
3. Examples
A man becomes addicted to prescription painkillers after being involved in a car accident and suffering serious injuries. His doctor refuses to prescribe any more painkillers and instead recommends that the man go to drug treatment. The man proceeds to visit several other doctors in the area for treatment of his injuries. The man denies receiving treatment previously and does not tell the doctors about each other. Each doctor agrees to prescribe painkillers to man. This man could be charged with doctor shopping /prescription fraud in violation of California Health & Safety Code Section 11173 HSC because he made misrepresentations to each doctor by not telling them about each other.
In another example, a young woman goes to a pharmacy to fill a prescription for stimulant medications that have been property prescribed by her family physician for a legitimate purpose. The pharmacist becomes suspicious of the woman based on her dress and demeanor and refuses to fill the prescription because he thinks it may be fraudulent, even though it is not. The woman goes to the pharmacy down the street and they agree to fill the valid prescription. This woman would not be criminally liable for prescription fraud in this scenario.
4. Defenses to Doctor Shopping / Prescription Fraud
As described above, there may be situations where a person may visit several medical health professionals and inadvertently fails to fully disclose facts to each doctor visited. In these scenarios, the patient would not be guilty of prescription fraud, as this crime requires an attempt to obtain a prescription by means of intentional fraud or misrepresentation.
5. Penalties
Doctor shopping / prescription fraud is a "wobbler" offense that can be charged as either a felony or a misdemeanor, depending on factors such as the defendant's prior criminal history and the specific circumstances of the offense. If convicted of this offense as a misdemeanor, the defendant can be sentenced to up to a year in jail, significant court fines and any other conditions of probation that a judge may deem appropriate. If convicted of doctor shopping as a felony, the defendant can be sentenced to up to three years in prison.
6. Criminal Defense for Doctor Shopping / Prescription Fraud Cases
If you or a loved one have been charged with doctor shopping / prescription fraud, it is crucial that you speak with a Los Angeles Criminal Defense Lawyer as soon as possible. Los Angeles Criminal Defense Attorney Michael Kraut is a former Deputy District Attorney with over 14 years of prosecutorial experience who has extensive experience in defending people charged with drug-related offenses. Mr. Kraut is known for being a strong advocate who fights hard on his clients' behalf.
For more information about doctor shopping/prescription fraud, and to schedule your free consultation, contact Los Angeles Criminal Defense Attorney Michael Kraut at the Kraut Law Group located at 6255 Sunset Boulevard, Suite 1520, Los Angeles, CA 90028. Mr. Kraut can be reached 24/7 at 888-334-6344 or 323-464-6453.