Los Angeles Shoplifting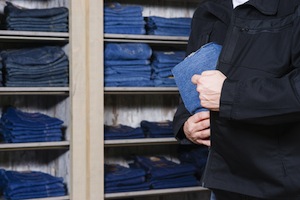 Every year, retailers lose millions of dollars as a result of shoplifters. As a result, these stores have increased loss prevention and will refer all individuals who are caught shoplifting for prosecution. Shoplifting under California Penal Code Section 459.5 PC and petty theft under California Penal Code Section 484(a) PC are two of the most frequently filed misdemeanor offenses in Los Angeles. While the theft amount may be minor in many cases, this is a serious conviction that can jeopardize future job prospects and can even result in deportation or exclusion from admission for those who are not United States citizens.
Major retailers have invested significantly in security and often have numerous hidden cameras throughout their stores to watch for any potential shoplifters. When a potential shoplifter has been identified, he or she will typically be detained and questioned by a loss prevention employee from the store. Because these employees are not law enforcement officers and have no association with the state, they are not governed by the same Constitutional restriction as a police officer would be. These employees may search without a warrant and will interrogate a suspect without providing any sort of Miranda warning. In many cases, the employee will have the suspect sign a confession regarding the offense. The store may promise not to prosecute if the person signs, however in almost all cases the store will call local law enforcement and will ask that the suspect be prosecuted to the full extent of the law.
Prosecutors are often provided with a lot of evidence from the retailer, including video surveillance footage and recordings of the conversation with the shoplifting suspect. The defendant is often charged with petty theft under California Penal Code Section 484(a). In addition, the defendant can be charged with shoplifting under California Penal Code Section 459.5 PC. This is a misdemeanor offense that alleges that the defendant entered the store with the intent to shoplift. If the amount of theft is over $950, the defendant can be charged with grand theft under California Penal Code Section 487 PC. This is a "wobbler" offense that can be charged as either a felony or a misdemeanor. In certain cases where the defendant is accused of stealing $50 or less worth of food or other necessities, the prosecutor may decline charges. In addition, the store may be willing to reach a civil compromise with the defendant that would require the payment of restitution and may then ask that charges be declined or dismissed if already filed.
A defendant who has been charged with shoplifting may have a number of different valid defenses. Shoplifting requires that the defendant intended to steal and there may be cases where a person simply left a store carrying an item that he or she had forgotten to pay for. If the defense can show how the alleged theft was completely unintentional, the prosecutor may reject or dismiss the criminal charges.
For many first-time shoplifters, the prosecutor or court may consider a diversion program that would allow the charges to be dismissed if the defendant commits no new offenses, completes a theft diversion class, pays restitution or completes community service. A conviction for petty theft or shoplifting can be considered a crime of moral turpitude that may provide grounds for deportation or exclusion from admission to the country for non-citizens.
If you have been arrested for shoplifting, it is crucial that you meet with a Los Angeles Criminal Defense Lawyer right away. Los Angeles Criminal Defense Lawyer Michael Kraut is a former Deputy District Attorney with over 14 years of prosecutorial experience who understands how to effectively defend clients who have been charged with shoplifting and petty theft offenses.
For more information about Los Angeles shoplifting offenses, contact Los Angeles Criminal Defense Attorney Michael Kraut at the Kraut Law Group located at 6255 Sunset Boulevard, Suite 1520, Los Angeles, CA 90028. Mr. Kraut can be reached 24/7 at 888-334-6344 or 323-464-6453.