Los Angeles Role of the Judge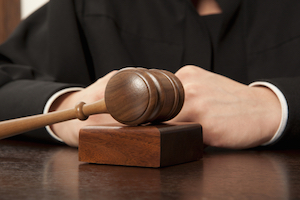 When a defendant has been charged with a felony or misdemeanor offense, he or she will appear in the Superior Court before a judge or commissioner of the Court. While judges preside over the Court, many defendants are surprised to learn that judges do not have limitless powers and what a judge can and cannot do is strictly controlled by law. It is important that anyone who has been charged with a crime understand the role of the judge in the criminal process.
In Los Angeles, a person who has been charged criminally may appear before a judge or a commissioner of the Court. Judges are attorneys who have either been elected to the bench or have been appointed by the Governor. Although the Governor may make interim appointments, all judges are required to stand for election every few years. Commissioners are attorneys who are hired by the Superior Court and are authorized to perform all of the same duties of the judge. Both the prosecution and defense must stipulate to a commissioner before the commissioner can hear contested issues. Once that stipulation is made, the commissioner has the same powers that a judge has.
The judge's main role is to make sure that a case moves along and to rule on contested issues. Many people are surprised to learn that judges often do not decide what penalties a defendant will receive. In many cases, the prosecution and defense will be responsible for exchanging evidence and negotiating a resolution to the case. If a plea agreement is reached, the judge will generally follow the terms of the agreement reached by the parties and will sentence the defendant in accordance with the plea agreement. Some judges take a more active role in resolving cases assigned to them and will often make offers to the defense over the prosecutor's objection.
Part of a judge's responsibilities is to hear legal motions that may be submitted by either party. Both the prosecution and defense can submit motions and there may be a hearing where evidence is presented. During these contested hearings, the judge will ultimately make rulings of law based on the legal arguments and rulings of fact based on the evidence presented in the hearing.
If the case goes to trial, the defendant is entitled to have a jury hear the case or can have a bench trial in which the judge would hear the evidence. If the defendant chooses a jury trial, the judge will rule on issues such as the admissibility of evidence, jury instructions and any other issues that may arise. In a jury trial, the judge is responsible for ensuring the defendant receives a fair trial but will not rule on whether or not the defendant is guilty. If the defendant chooses a bench trial, the judge will rule on both legal issues that may arise and will ultimately act as the trier of fact and will issue a verdict once the case has been submitted.
If a defendant is convicted at trial, the judge is responsible for sentencing the defendant. The sentence imposed must comply with the relevant statutory guidelines.
If you have been charged with a crime, it is imperative that you meet with a Los Angeles Criminal Defense Lawyer as soon as possible. Los Angeles Criminal Defense Lawyer Michael Kraut is a former Deputy District Attorney with over 14 years of prosecutorial experience who is highly respected by area judges, who hold Mr. Kraut in high regard due to his impressive litigation skills and numerous accomplishments as a prosecutor. Mr. Kraut understands how to effectively defend clients who have been charged with criminal offenses.
For more information about the role of the judge in Los Angeles, contact Los Angeles Criminal Defense Attorney Michael Kraut at the Kraut Law Group located at 6255 Sunset Boulevard, Suite 1480, Los Angeles, CA 90028. Mr. Kraut can be reached 24/7 at 888-334-6344 or 323-464-6453.
Client Reviews
He gave me the peace of mind that my DUI case was going to be resolved. He fought for what it was needed and helped me by answering all my questions. Mike is not an average attorney. He's a very experienced, honest and straightforward person that is there for you!
I hired Attorney Mike Kraut and I'm am so happy and grateful that I did! I was arrested for a DUI because my BAC level was over the .08 limit. I ended up getting a wet and reckless instead of a DUI. I still have to do some classes and I'm on probation, but I do not have a DUI on my record. If you have a DUI hire Attorney Kraut, he definitely knows his stuff!
There aren't enough positive words to write about Mike, but let me be clear that this is the only lawyer worth hiring in Los Angeles. Mike is professional, caring, and an absolute champion at winning in court.
Mike Kraut is not a typical lawyer. He is a straightforward person with a true heart and a sympathetic ear. He is also smart and connected and he cares about the people who seek out his help. He got my son out of a jam. He did it quickly and painlessly. I recommend Mike Kraut to anyone that needs his services.
Thank you Mike for helping my son.
Michael Kraut is a rock star lawyer. I was really happy and satisfied with the results I received from Michael and his team. A few months back I was being accused of a serious felony. Mike gave me sound legal advice and worked diligently to clear my name. Mike was great at always keeping me updated and returning calls. Great, great lawyer I cant say enough about this man!
How can I express how relieved and pleased I am with Michael's professional abilities to have my Felony brought down to a misdameanor to a possible dismissal with deferment. With his care my life has been turned around and cannot say how helpful he's been not only in my case but life. He, himself has changed how I view criminal lawyers. Thank you so much Michael!