Electronic Harassment – California Penal Code Section 653.2 PC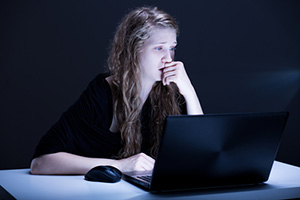 Under the law, domestic violence offenses are not limited to incidents involving actual physical harm, such as corporal injury to a spouse in violation of California Penal Code Section 273.5 PC or domestic battery under California Penal Code Section 243(e) PC. A defendant can be convicted of a domestic violence offense even where there is no physical contact. In recent years, the California legislature has enacted laws designed to address online harassment, which often involves harassment of current or former spouses, boyfriends and girlfriends. In 2008, the legislature enacted California Penal Code Section 653.2 PC, which makes it illegal to post harmful information about another person online.
Elements of Electronic Harassment
In order to convict a defendant of electronic harassment under California Penal Code Section 653.2 PC, the prosecution would have to prove the following elements:
That the defendant electronically distributed, published emailed, hyperlinked or made available for downloading personal identifying information, including but not limited to a digital image of someone else or an electronic message of a harassing nature about another person.
The defendant did not have the consent of the other person and posted this information with the purpose of imminently causing the other person experience unwanted physical contact, injury or harassment.
And the defendant had the intent to place the other person in reasonable fear for his or her safety or the safety of his or her immediate family.
This offense is considered to be indirect electronic harassment, as it involves posting pictures, home addresses or other identifying information about a person with the hope that other individuals online will harass this person. Indirect electronic harassment is different from direct electronic harassment, which may be considered stalking in violation of California Penal Code Section 646.9 PC.
Electronic Harassment as a Crime of Domestic Violence
A defendant can be convicted of electronic harassment under California Penal Code Section 653.2 PC regardless of who the target of the harassment is. However, if the targeted person is one of the people listed in California Family Code Section 6211 FC, the online harassment will be treated as a domestic violence offense. This would include current or former spouses, people in a current of former dating relationship, cohabitants, children and blood relatives. For these victims, the defendant would be subject to the mandatory sentencing provisions described in California Penal Code Section 1203.097 PC. This includes a minimum three year probation period, a mandatory 52-week batterer's class, a protective order that would prevent future harassment and fines.
Penalties for Electronic Harassment
Electronic harassment under California Penal Code Section 653.2 PC is a misdemeanor level offense. Those convicted of this crime can face up to a year in jail and up to $1,000 in fines in addition to whatever terms and conditions of probation that a judge may find appropriate.
If the victim was a current or former spouse, boyfriend, girlfriend, or anyone else included in California Family Code Section 6211 FC, the Court would be required to issue a protective order and the defendant would have to complete a 52-week batterer's class or equivalent. This would apply regardless of whether or not the named victim suffered any actual injury or harassment as a result of the defendant's conduct.
If you or a loved one have been arrested for electronic harassment or are under investigation for this offense, it is critical that discuss your case with an experience criminal defense attorney as soon as possible. As a former Deputy District Attorney with over 14 years of prosecutorial experience, Michael Kraut is highly respected throughout the court system as a tough litigator who fights hard on his clients' behalf.
For more information about electronic harassment, and to schedule your free consultation, contact Michael Kraut at the Kraut Law Group located at 6255 Sunset Boulevard, Suite 1480, Los Angeles, CA 90028. Mr. Kraut can be reached 24/7 at 888-334-6344 or 323-464-6453.
Client Reviews
He gave me the peace of mind that my DUI case was going to be resolved. He fought for what it was needed and helped me by answering all my questions. Mike is not an average attorney. He's a very experienced, honest and straightforward person that is there for you!
I hired Attorney Mike Kraut and I'm am so happy and grateful that I did! I was arrested for a DUI because my BAC level was over the .08 limit. I ended up getting a wet and reckless instead of a DUI. I still have to do some classes and I'm on probation, but I do not have a DUI on my record. If you have a DUI hire Attorney Kraut, he definitely knows his stuff!
There aren't enough positive words to write about Mike, but let me be clear that this is the only lawyer worth hiring in Los Angeles. Mike is professional, caring, and an absolute champion at winning in court.
Mike Kraut is not a typical lawyer. He is a straightforward person with a true heart and a sympathetic ear. He is also smart and connected and he cares about the people who seek out his help. He got my son out of a jam. He did it quickly and painlessly. I recommend Mike Kraut to anyone that needs his services.
Thank you Mike for helping my son.
Michael Kraut is a rock star lawyer. I was really happy and satisfied with the results I received from Michael and his team. A few months back I was being accused of a serious felony. Mike gave me sound legal advice and worked diligently to clear my name. Mike was great at always keeping me updated and returning calls. Great, great lawyer I cant say enough about this man!
How can I express how relieved and pleased I am with Michael's professional abilities to have my Felony brought down to a misdameanor to a possible dismissal with deferment. With his care my life has been turned around and cannot say how helpful he's been not only in my case but life. He, himself has changed how I view criminal lawyers. Thank you so much Michael!